playing guitar
has never been so easy
A useful
tool for everyone
Whether you are starting from a basic or more advanced level, simplify and speed up the guitar learning process with Visual Note.
The system consists of an LED device to be applied to the guitar neck or a bundle including guitar and LED device already integrated. It all connects to an intuitive and easy app full of essential learning content.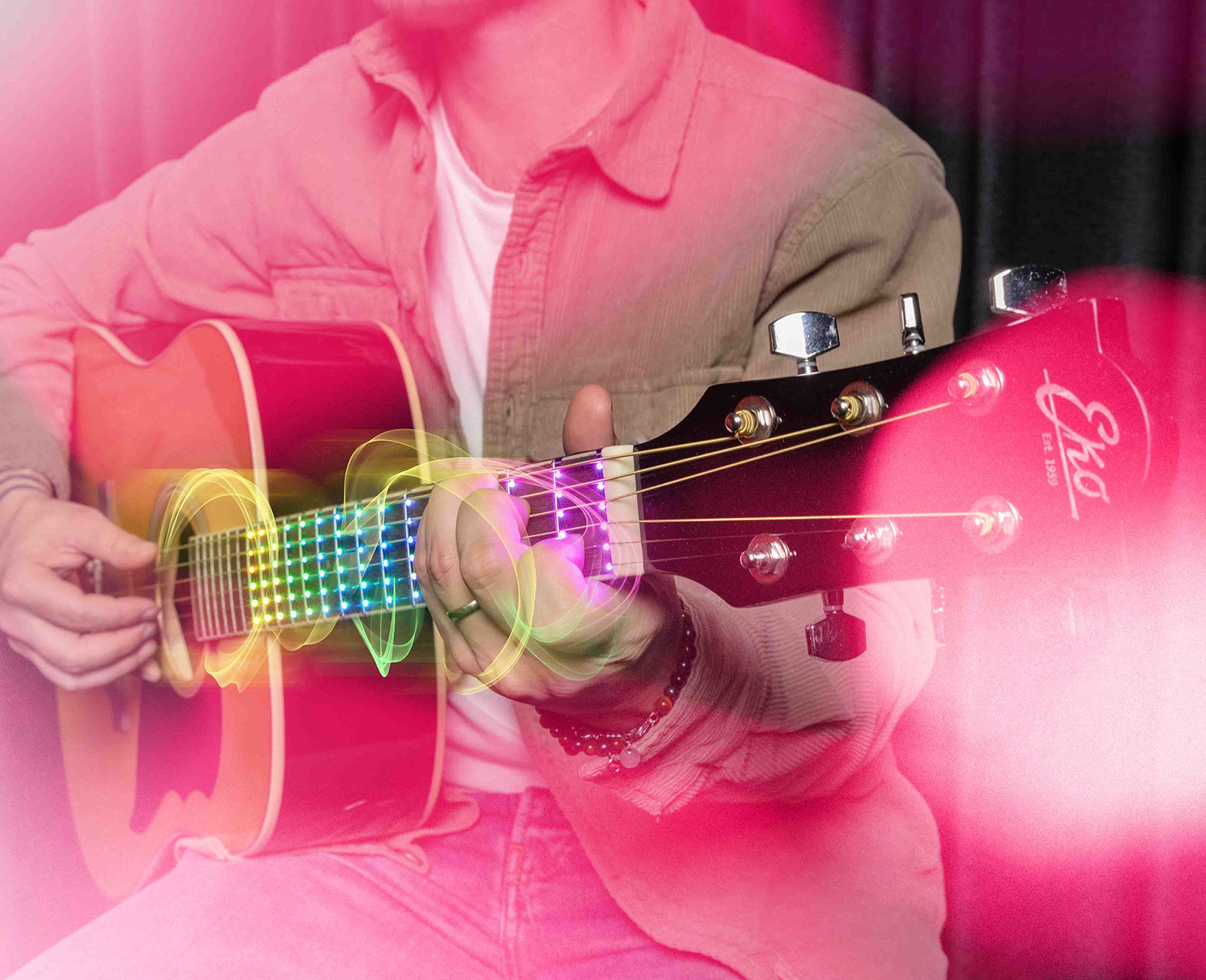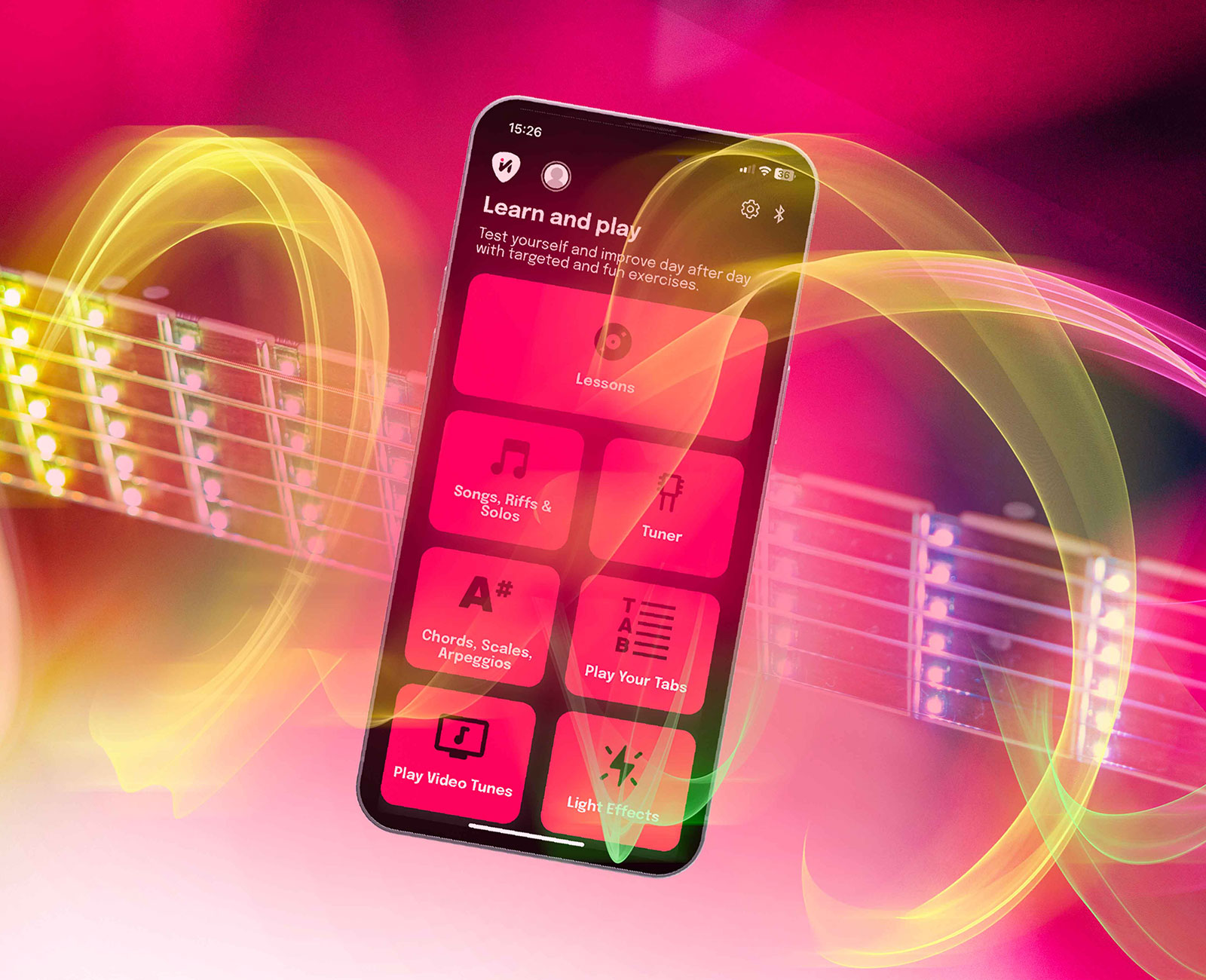 Interactive
lessons
when and where you want
Get the Visual Note app and access exclusive content created by professional music teachers and guitarists.
Interactive lessons allow you to learn and practice at your own pace, inclination and time availability.

Choose your learning path and practice chords, scales, melodies, tablature and more. Visual Note is very simple to use and is at your disposal whenever and wherever you want.
Learn
scales, chords and arpeggios
Choose on the app which chord, scale or arpeggio to play and focus on the guitar neck. Without distractions and with your attention solely on the instrument, you'll learn much faster than you think!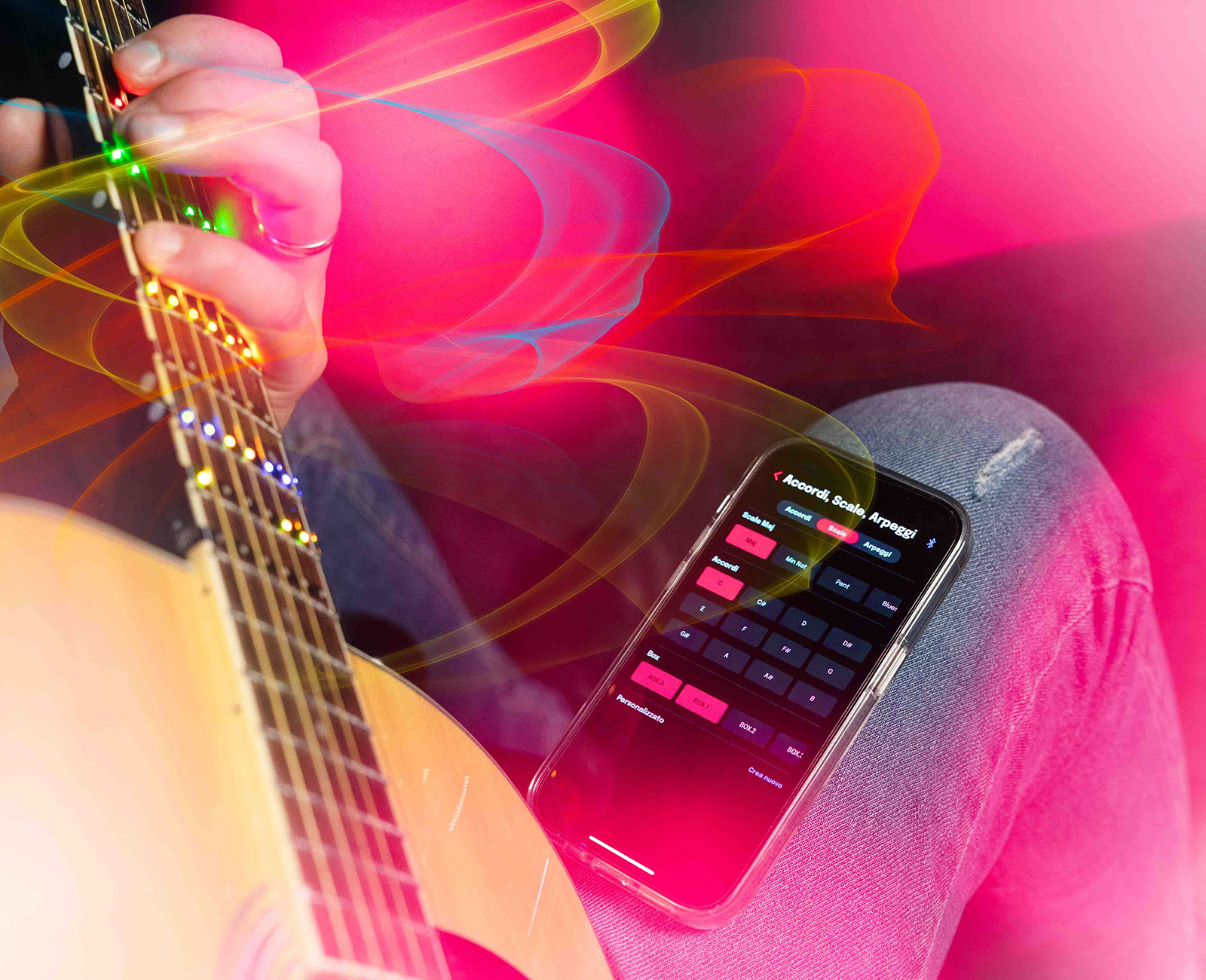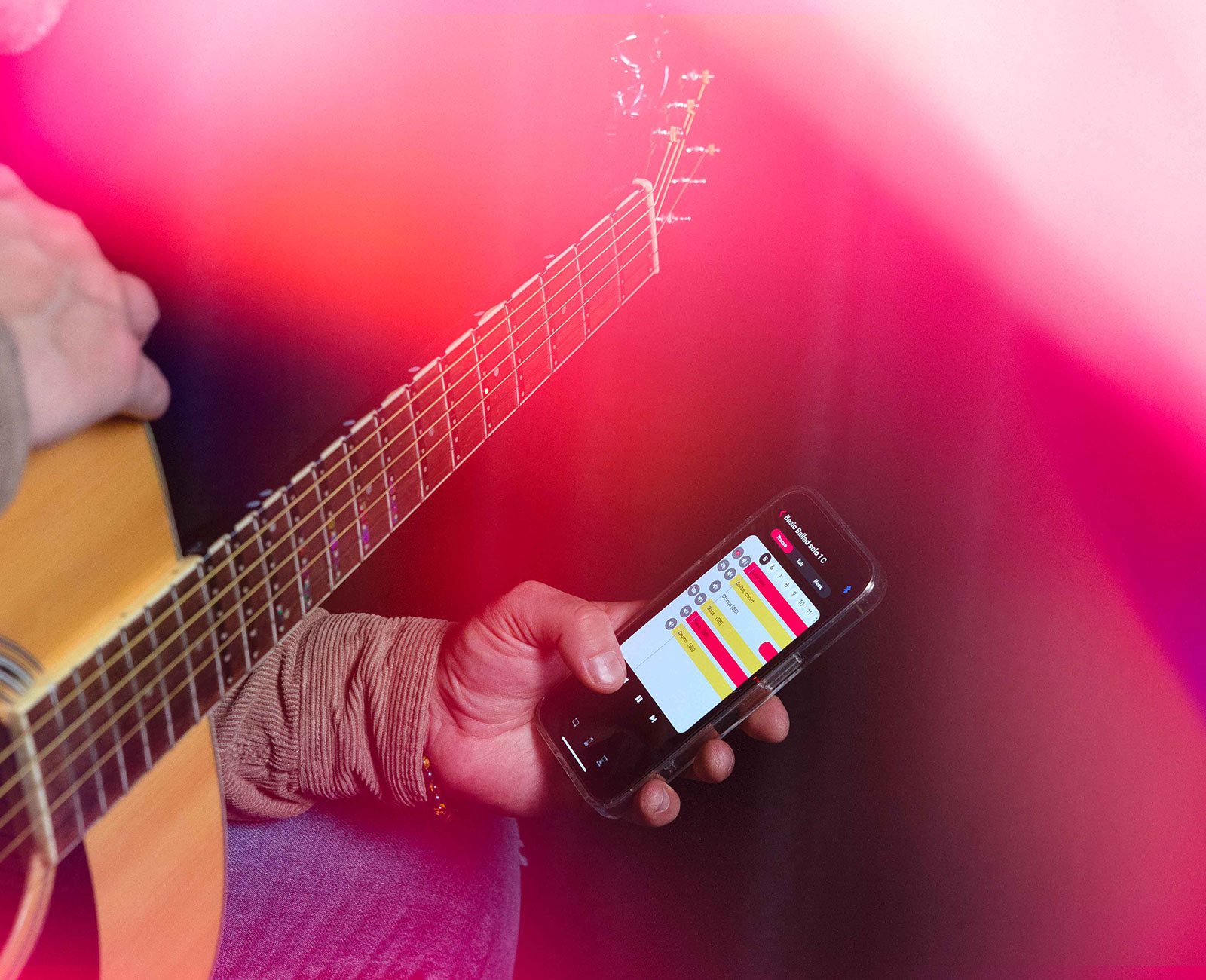 Play
tunes, riffs and solos
Do you dream of playing the notes of the greatest guitarists of all time like Jimi Hendrix, David Gilmour or Eric Clapton? Select your favorite song, riff or solo on the app, follow the LEDs and prove you are a real guitarist. Unleash your talent, now you have the right tools.
Astound
your audience with lighting effects
Take the stage and make your mark with your live performances!
The LED device gives you the opportunity to create an infinite variety of music responsive visual effects for unforgettable performances.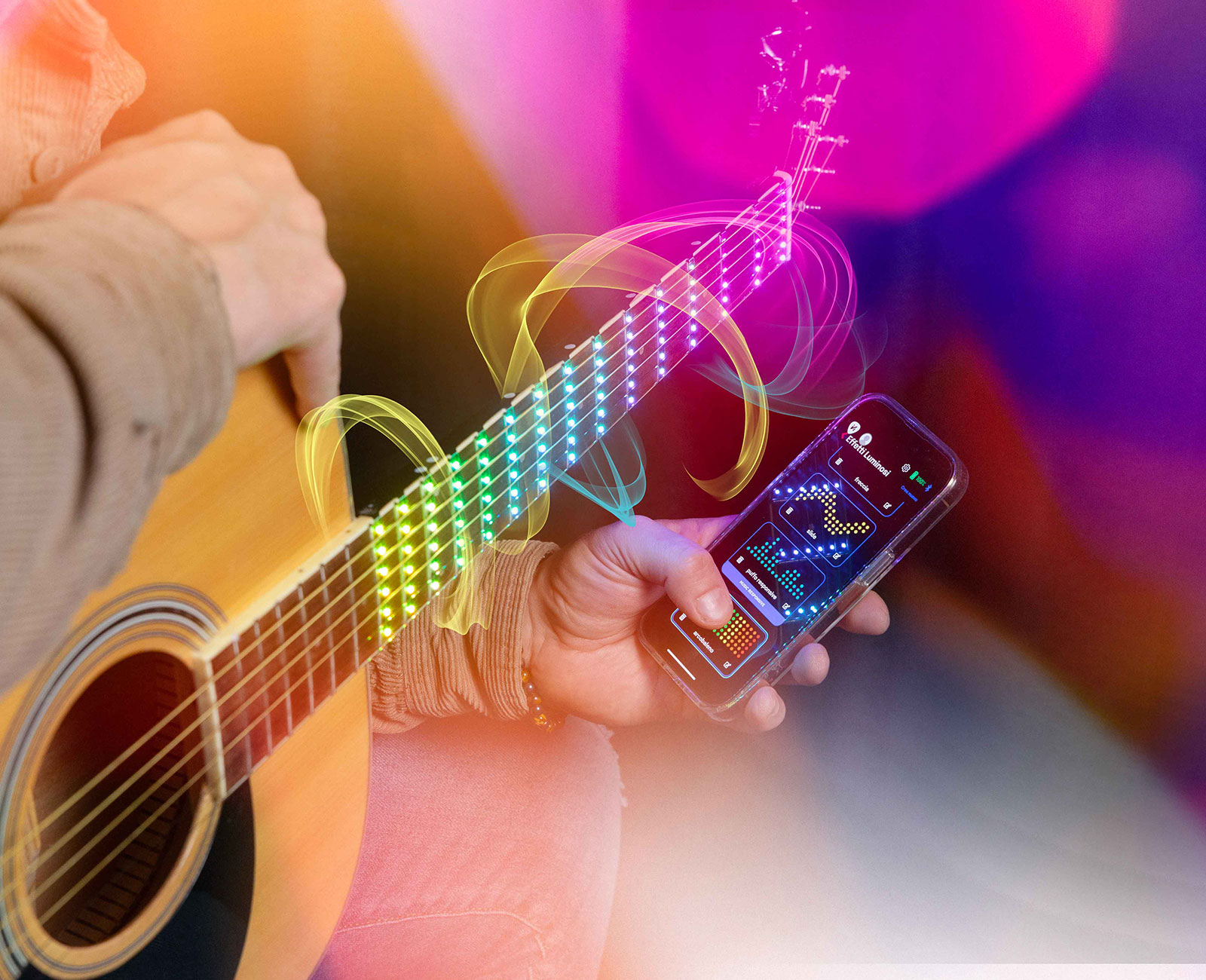 To start
DOWNLOAD THE APP
PLUG IT IN AND GO!
Download the app, follow the registration steps and connect it via bluetooth to your LED device. Tune your guitar with the Visual Note Tuner, the special tool that guides you step by step to find the correct tuning more easily and accurately. Now start your musical journey and let the LEDs guide you.
LEARN, ENJOY, PLAY
Play your favorite tunes,
have fun and unleash your inner musician!
Buy Visual Note.
FAQ
The LED device is very easy to install, you can do it yourself without difficulty. However, you can always contact us via Whatsapp and get all the assistance you need. Click on the icon and write to us.
The Visual Note can be applied to most guitars. It fits most Fender, Ibanez, Yamaha, ect. with a scale length of 648 mm (25.5") as well as most Epiphone, Gibson, PRS etc. with a scale length of 629mm (24.75"). Make sure to buy the correct MLD for your guitar. If you have any questions, please do not hesitate to contact us!
Of course, the LED device has been designed and manufactured to fit both configurations.
The Visual Note App works on both iOS and Android devices and can be downloaded to smartphones and tablets.
Yes, Visual Note ships worldwide.
Visual Note ships worldwide. Italy: Delivery time approx.1 day. Europe: Delivery time approx. 2-5 days. Outside Europe and worldwide: Delivery time approx. 3-8 days. DUTIES: We take care of the customs declaration and you have no customs fees to pay.
Yes, you can split the payment into 3 installments using Klarna or Paypal.